Gunner Guy
A downloadable game for Windows, macOS, and Linux
A procedurally generated roguelike FPS thing
Comments
Log in with itch.io to leave a comment.
fantastic game you have created
I also have created my first FPS game in Godot I am also 13 year old will you help me to publish it please
Can you please make a 32 bit build? I want to play the game :(
https://gotm.io/plugworldgames/gunner-gu
Hey sorry about that, I'll look into exporting 32 bit when I get the time.
But you can play the web version on GotM.io right now.

Thanks for your interest in the game!

Holy moles, I love that game. I would really like to learn from your resources to get how you accomplished it. Would be really awesome if you share the source code. Great Game! Keep it going

Thanks so much! I am actually planning on making a free tutorial series on YouTube on making this type of game very soon. As for the source code, I am planning on making a Patereon soon as well. Which will include the source code of all of my games.
Thanks for taking the time to play and comment :D
Looks really promising, but I sadly can't move or look around (they only thing possible to do is jump when I start a new game).
Do you have a controller plugged in? If it's plugged in the game will be controlled by the controller and not the mouse and keyboard.
Github with source if possible? Or just some examples you followed? I love how this looks and want to learn how to do it.

I am planning on making a free tutorial series based on this game soon. As for the source code I was thinking about making it one of the benefits of my Patereon that I will look into starting up soon.
Unfortunately when I first ran it it(on G) shut off after launching and now It locks me from playing, I then ran it basically from C and the same happened after a while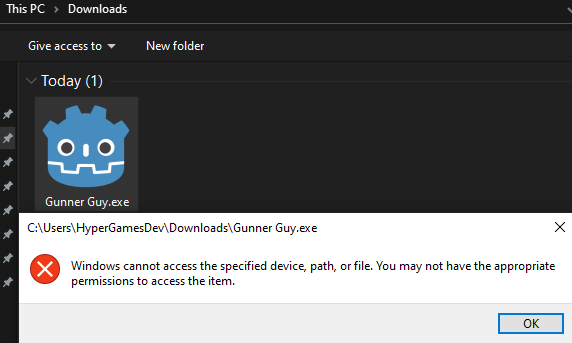 Interesting, I have tested this on multiple machines and haven't ran into this issue.
Try downloading the Gunner Guy Alt version I just uploaded.
Let me know if you encounter any more issues, thanks for playing!
I like the game, it energizes you. There's a lot of polish in it, I especially love the accuracy of fire feature in this game. Died on 3rd level with 395 score.
However, I didn't quite understand how many guns I can obtain. On the first level I got SMG, but was there some new gun on the second level I missed?
Thanks for playing! The guns just randomly spawn in each level, and are not tied to the level you are currently on.